The 8th Japan-Sino-Korea Mouse Resource Workshop

Date:August 26(Mon) – 28(Wed), 2019
Venue:Moriwaki Hall, RIKEN BioResource Research Center (BRC), Tsukuba, Japan
Organizer: Michael Dobbie, Australian Phenomics Network

"Precision Modelling of Human Diseases in Mice and Cell Resources"
We are very pleased to announce thatRIKEN BioResource Research Center (BRC)will be hosting the 8th Japan-Sino-Korea Mouse Resource Workshop.
This workshop provides 2-day lecture and the final 1/2-day wet-hand training sessions in mouse genetics, genomics, pathology, and research updates on biological and medical research, as well as useful mouse and human iPS cell resource. Participants will have an opportunity to interact with prominent scientists from Nanjing University, Seoul National University, RIKEN BRC, and multiple leading research institutions in Asia and Australia.
Keynote speakers in the field of precision human disease modelling in mice and mouse stem cells will be invited to discuss new research innovations, technological developments and future research requirements.

Topics and models to be covered include: Mouse genetics and developmental biology, Mouse resource, genetic manipulation and phenotyping, Human disease models, Neuroscience research using mice, Human iPS cell resource for disease research, Models and techniques for metabolic disease research, Imaging technique and informatics.
CARD-JAX Mouse Reproductive Technology Workshop
Date:Octber 15-19, 2018
Venue:Jackson Laboratory in Bar Harbor, Maine (USA)
Organizwed byNaomi Nakagata and Toru Takeo of the Center for Animal Resources and Development (CARD) at Kumamoto University and Rob Taft, Jennifer Corrigan and Leanne Miceli of The Jackson Laboratory.

Detailed information is here.
The Seventh Sino-Japan Summer Course of Genetic Mouse Models
Date: July 23-25, 2018
Venue: Model Animal Research Center (MARC), Nanjing University, China
Program is here.
As a short education course annually planned by RIKEN BioResource Research Center (BRC), Japan (Director: Yuichi Obata, Ph.D.) and Model Animal Research Center (MARC), Nanjing University, China (Director: Dr. Shuai Chen, Ph.D.), "The Seventh Sino-Japan Summer Course of Genetic Mouse Models" was held from July 23 (Mon) to 25 (Wed) at MARC in Nanjing.
1. History of the Japan-Sino Summer Course
MARC and RIKEN BRC have been co-organizing a series of short educational course focusing on mouse genetics and related experimental technologies for young scientists. The first summer course was hosted by RIKEN BRC on August 27 – 29, 2012 in Tsukuba. After that MARC and RIKEN BRC hosted alternately every year until Seoul National University, Korea joined and hosted the 6th summer course in 2017.
2. Summer Course of this year
The main theme of this year was "Humanized Mouse Models". Sixty-nine participants including graduate students mainly from Nanjing University and young scientists from various districts in China joined this course and learned from basics to applications of mouse genetics.
Classes were given by 18 lecturers from China and Japan. Lecturers and organizers are listed as below. Lectures were given with the following four themes. Students actively asked questions and joined discussions in each lecture.
Mouse Genetics and Genome Manipulations
Mouse Resource for Biomedical Research
Disease Models and Phenotyping
Humanized Mouse Models
On the last day of the course (July 25), five practical training courses were held for the participants to choose one of them according to their preferences.
The Modified SHIRPA Techniques
Embryo and Sperm Handling Techniques
PDX Mouse and Techniques
Pathological Sectioning and Processing
Animal Facility Management
The next 8th Summer Course is planned to take place from August 26 (Mon) to 28 (Wed), 2019 in RIKEN BRC. Please keep the dates!
The 8th Japan-Sino-Korea Mouse Workshop (tentative plan)
Theme: "Precision modeling of human diseases in mice and cell resources"
Date: August 26-28, 2019
Venue: RIKEN BRC, Tsukuba, Japan
2017 AMMRA & AMPC Meeting
Date:
August 26-27th, 2017
Venue:
NEST Hotel, Incheon, Korea


Detailed information is

here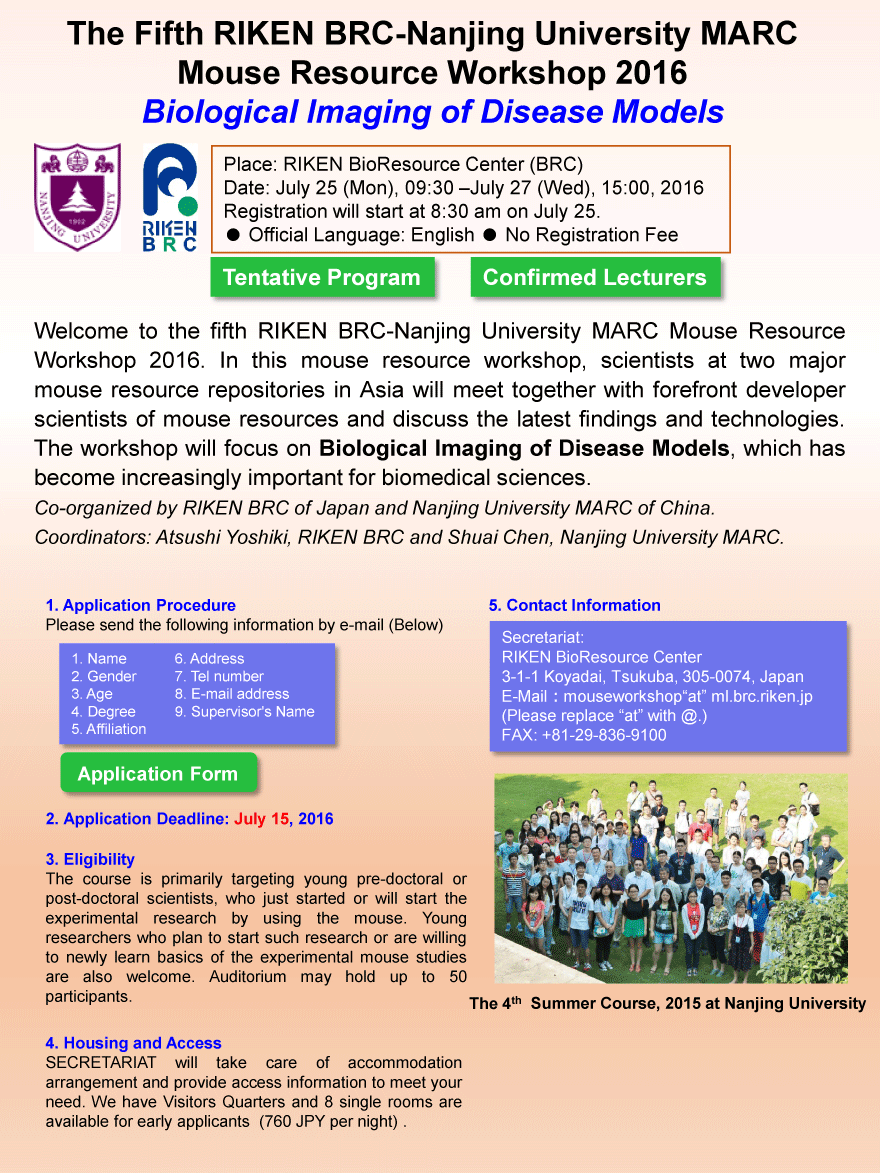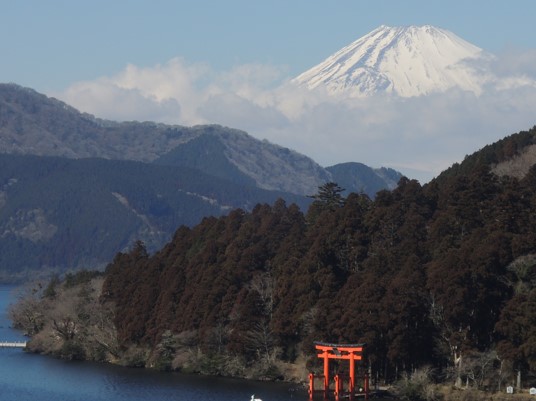 The Asian Mouse Mutagenesis & Resource Association (AMMRA) and The Asian Mouse Phenotyping Consortium (AMPC) are a collaborative group of the development, archiving/distribution, coordination of phenotyping and informatics for the mouse in Asia.
The 2016 AMMRA & AMPC meeting will be held on May 20 (Fri)-21(Sat) at Hakone-Yumoto Hot Spring Hotel Okada, Kanagawa, Japan.
The topic of the scientific session is "The Recent Advancement and Impact of CRISPR/Cas9 Technology in Mouse Mutagenesis and Resources". We will have Professor Masahito Ikawa, Osaka University as an invited speaker as well as representatives from AMMRA & AMPC members. The second session is planned for an invited talk entitled "International Mouse Phenotyping Consortium: Results of Large Scale Phenotyping in Disease Models and Data Reliability" by Dr. Mark Moore, Executive Director of IMPC. The meeting will be exiting and informative for Asian mouse researchers.
Title:The 4th RIKEN BRC / NANJING UNIVERSITY MARC International Short Summer Course of the Mouse
Welcome to the 4th International Short Summer Course of the Mouse co-organized by RIKEN BioResource Center,Japan (Director: Dr. Yuichi Obata) and Model Animal Research Center, Nanjing Unversity, China (Founder director:Dr. Xiang Gao).The course aims to provide short and intensive educational program on laboratory mouse, and to train young scientists with international vision and innovative spirits for biomedical research. Experimental practice and tour at Model Animal Research Center are also included in the program.
Date: July 27-29,2015
Venue: MARC of Nanjin University
Keynote speakers:
Dr. Yuichi Obata, Director of RIKEN Bioresource Center
Dr. Heping Cheng, Institute of Molecular Medicine, Peking University, Academian of Chinese Academy of Sciences
Dr. Weinian Shou, Professor of Fu Wai Hospital, CAMS & PUMC
Dr. Bin Zhou, Professor of Shanghai Institutes for Biological Sciences, Chinese Academy of Sciences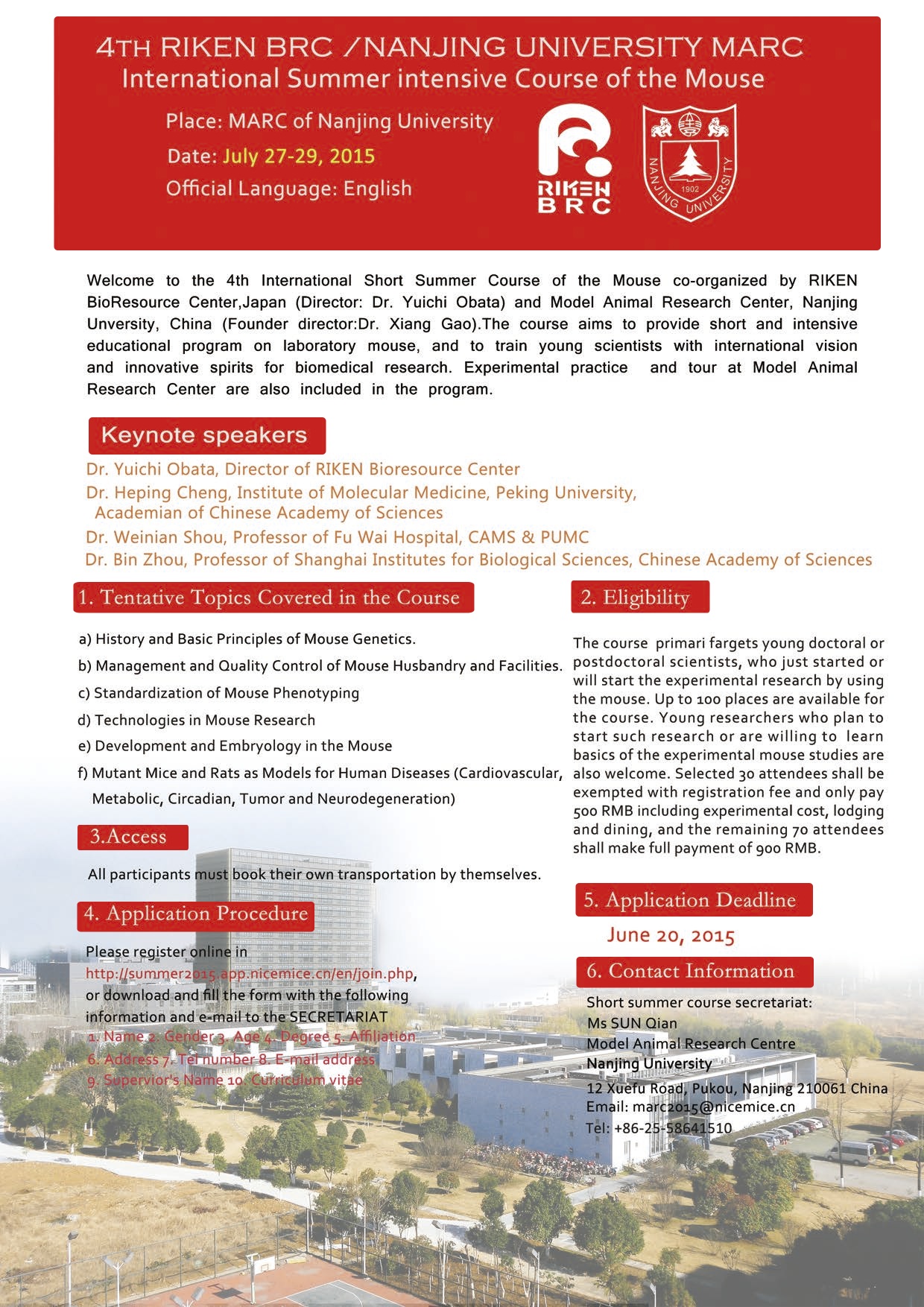 RIKEN Symposium/2013 AMMRA & AMPC Meeting in Tsukuba
May 17-18, 2013, RIKEN BioResouce Center, Tsukuba Agenda
2012 AMMRA/AMPC Annual Meeting and Workshop on Mouse Model Research, Nanjin
March 15-17, 2012, Nanjing Dongjiao State Guest House, Nanjin
Program
6th AMMRA and 7th SALAS Regional Conference, Singapore November 29 – December 2, 2011, Matrix Building, Biopolis, Singapore
Agenda
Report (from RIKEN BRC)
5th AMMRA Council Meeting, Taipei
November 8-11, 2010, Far Eastern Plaza Hotel, Taipei
Program
Photos: 1, 2, 3
5th AMMRA pre-meeting, HongKong
Aubust 26-27, 2010
2nd AMMRA Meeting, Nanjin
November 14-16, 2007, Zhongshan Convention Center, Nanjin